Dorthe Nors' Self Isolation Short Story Kit
Dorthe Nors is internationally renowned as one of the most original voices in contemporary Danish fiction. Her novel Mirror, Shoulder, Signal was shortlisted for the International Man Booker Prize, and she is a virtuoso short story writer (the first Danish author to be published in the New Yorker). Her vivid and melancholy new collection Wild Swims publishes on 23rd April.
Here, Dorthe gives us a run through of the short story collections she's been revisiting whilst in lockdown, and tell us why you should read them too! So, let's get into her kit…
---
JOHAN BORGEN: Short stories: I was introduced to Johan Borgen's stories when I was very young. He has etched himself into my consciousness. My story 'Honeysuckle' from Wild Swims shares its title with one of his best stories. Borgen's story 'Honeysuckle' is about a young boy who crawls into the honeysuckle at the gable of his childhood home. Here he becomes so intoxicated by its sweet smell that he can't move. Time goes on around him, but he's stuck in adolescence. Amazing story.
H. C. BRANNER: Two Minutes of Silence (my translation). I'm afraid he hasn't been translated but he was one of our greatest classical short story writers in Denmark. The title story is amazing. There's a pause in the middle of that story that is to DIE for.
LYDIA DAVIS: Can't and Won't: Lydia Davis is a master of the the short-short (very short at times). In one of my favorites 'The Grandmother' an elderly lady eats her own hearing aid because it looks like a cashew nut. It's hilarious. The ending goes: 'At bedtime she spat it out into the hand of her caregiver and told him this nut was a bad one.'
TOVE DITLEVSEN: Youth, Dependency, Childhood. I'm cheating here. The incredibly cool, funny, devastating, heartbreaking Danish writer and poet Tove Ditlevsen was a famous short story writer too. But it's her amazing trilogy of novels Youth, Dependency, Childhood that was published by Penguin Classics last year. Order them this very minute at your local bookshop!
JUDITH HERMANN: Summerhouse, Later. The German short story writer Judith Hermann is critically acclaimed worldwide. I did a reading with her last year and it was like meeting a kindred spirit. Judith Hermann lives in Berlin, she's translated to English – so call your bookshop!
ETGAR KERET: The Seven Good Years: Actually this is a memoir, but written in the short form, because Etgar Keret is a short story writer to the core. He's both heartbreaking and hilarious. Read him.
LORRIE MOORE: Like Life: I didn't know or read Lorrie Moore till my short story collection Karate Chop had its breakthrough in the US. On my first US tour I found Like Life in a New York City bookshop and it's stuck with me. She's witty, subtle and has the kind of musicality that makes short story writing what it is – or should – be. Her sense of timing and precision is wonderful.
ALICE MUNRO: Dear Life: On the same US tour I bought a stack of Alice Munro short stories. She needs no introduction. I'm so grateful for her work. She can open a world in one sentence and is therefore a true short story genius. 
FLANNERY O'CONNOR: A Good Man is Hard to Find: I just love Flannery O'Connor. She's a master! She's strange, deep, funny, weird, cartoonish and very very very Southern Gothic. Her novel The Violent Bear it Away is one of my all time favourites – and so is her brutal short story 'A Good Man is Hard to Find'. She is a must read if I ever came across one.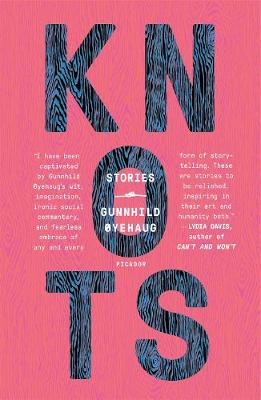 GUNNHILD ØYEHAUG: Knots: Contemporary Norwegian writer Gunnhild Øyehaug is a master of the short form. And she's also brilliant at balancing the sad and the funny. She has a great eye for the weirdness of things – and she's translated into English big time. Lydia Davis has endorsed her, and even though I'm not Lydia Davis, I'll give her my endorsement too. Read Øyehaug!
---
Dorthe Nors' short story collection, Wild Swims, is out now.
Also from Dorthe: Mirror, Shoulder, Signal, Karate Chop and Minna Needs Rehearsal Space.